Pouch package is very popular in juice ,wine etc industry now,Pouch is self-standing pouch is made of high-performing oxygen barrier films to preserve the liquid inside, ensuring the contents stay uncontaminated by the air outside. Attractive and modern, the Pouch is an innovative packaging concept designed to extend the shelf life of liquid and semi-liquid products such as wine, juice and oil.
Liquid is dispensed through a high performance vitop compact tap, which prevents air entering the packaging during dispensing. The pouch and tap work together to prolong the shelf life before and after the pack is opened.
Pouch is unbreakable, yet extremely lightweight and has a very low carbon footprint in comparison to glass and PET Bottle packaging.
Pouch is free standing with a single gusset on its base or a double gusset on the base and on the top.  They can be high quality printed to use colour and graphics to attract consumer attention in the retail environment. They offer maximum customer convenience as they are easy to carry, easy to store, easy to use and easy to dispose of.
We supply filling machine for pouch package ,If you need pouch filler,welcome here ,we will provide you professional solution.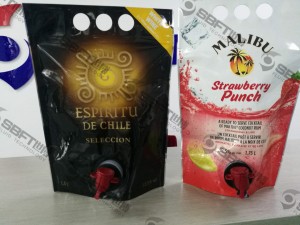 ---
Post time: Apr-23-2020