Bag in box wine is very popular in Europe,and you will see bag in box package in any supermarkets.Especially Swedes and Germany.
Swedes are world champions when it comes to drinking bag-in-box wines. In 2017 bag in box wines were separated from bulk wines in international import and export statistics. Up until then, everything over 2 litres was considered as bulk wine. So now we have statistics showing which countries export and import bag-in-box.
The statistics show that Sweden is the world's largest importer of bag in box wine. So, it is not just a question of consumption per capita, but also the biggest total volume. In Sweden, many people probably think that drinking BIB is commonplace in most countries but that is not the case.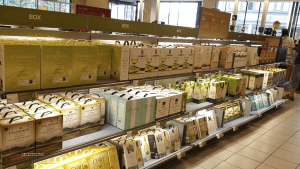 Sweden imports 493,000 hecto litres of bag in box wine, which represents 25% of the total imported volume. However, bag-in-box wines (or simply box wines as they are called in Sweden) account for 50-60% of the sales. The explanation is probably that most of the wine imported bulk (around 27% of the total imports) is filled in boxes in Sweden.
The second biggest importer is the USA, ,followed by Norway , Slovakia and Germany.
Australia is the biggest exporter of bag in box, slightly ahead of South Africa and Germany. Then come France, Italy and Spain.
Xi'an Shibo Fluid technology Co.,Ltd company focus on the manufacture and research of bag in box filling machine for many years in China.And has own patents,Through many years experiences and developing for each customer.If you are interested in bag in box filling machine .pls don't hesitate to contact us.
---
Post time: Aug-09-2019