According to figures,thhe global bag-in-box container market size was estimated at USD 3.3 billion in 2019, and is projected to witness a CAGR of 6.5% during the forecast period from 2020 to 2027. The growth of the market can be attributed to the growing product adoption in industry segments such as alcoholic beverages, household cleaners, and milk and dairy products.
The bag-in-box container industry has been witnessing a soaring demand from the wine industry. The production of wine is expected to register a steady increase with the manufacturers adopting advanced packaging solutions such as bag-in-box containers as an alternative packaging. The market for bag-in-box container in the alcoholic beverage segment is expected to increase owing to the increasing alcoholic beverage consumption. Growth in consumption of alcoholic beverage in developed economies is expected to drive the growth in the market. North America is expected to be the largest consumer of alcoholic beverage products followed by Europe.
The growing demand for household products is expected to drive the market for bag-in-box container over the forecast period. The increasing consumption of the household cleaners such as surface deodorizers and surface cleaners is expected to drive the demand for bag-in-box container in this segment. Growing urban population in the region has accounted for an increase in the demand for hygiene promoting products such as household cleaners. In addition, the market is expected to be driven by the demand for low-foam detergents that are being packaged in bag-in-box containers.
The demand for the bag-in-box container is expected to be hampered by the growth in the substitute product market such as plastic and glass bottles. The abundant availability of the plastic bottles at lower prices is expected to hinder market growth. The increasing demand for plastic bottles by the soft drink industry is expected to hamper the growth of the market for bag-in-box containers over the forecasts period.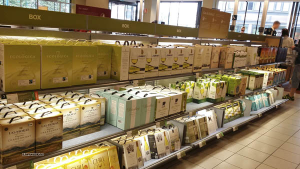 ---
Post time: Jun-11-2020